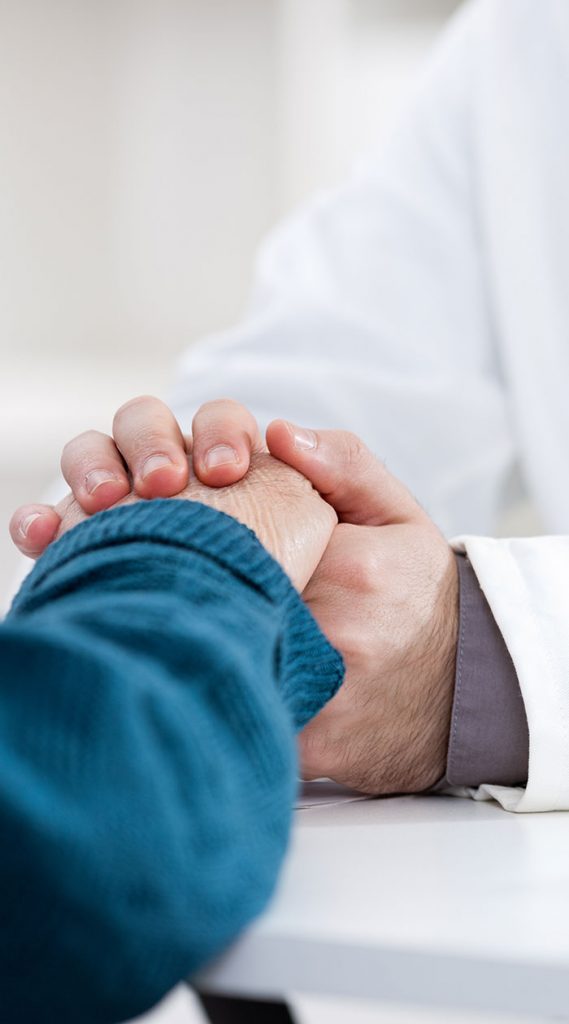 About the Ottawa Foot Clinic
Exceptional Quality Treatment; Exceptional Quality Care
At Ottawa Foot Clinic, we deliver outstanding care to informed patients in our world-class state-of-the art, comfortable and convenient Ottawa foot clinic.
There is an art to providing outstanding patient care.  It begins with listening; is nurtured by caring; and perfected by knowledge and experience.
These elements combine seamlessly at the Ottawa Foot Clinic; with the result that our patients can feel confident they are in the best possible hands of one of the most trusted specialists in the field in the Ottawa valley.
And that's only the beginning. If you are suffering from sore feet, heel pain, pain at the ball of the foot, painful infected ingrown toenails, sore and unattractive bunions or hammertoes, unsightly fungal nail infection or unresponsive plantar warts, there is immediate help.
Your Foot Specialists
Antoun Hajj was issued with the academic degree of Doctor of Podiatric Medicine by the only University in Canada offering this foot specialty program based on the American definition of podiatry, namely the Université du Québec à Trois-Rivières. Antoun also completed a 4-month training specialized in podopaediatrics (pedal pediatric), orthopedic, radiology and wound care at the New York College of Podiatric Medicine as part of his doctorate training. He also holds a double bachelor degree in health science and in biochemistry from the University of Ottawa.
Antoun continually keeps up-to-date on new developments by attending conferences and training throughout the United States and Canada.
As an active member of the Ordre des Podiatres du Québec, Antoun joined the Committee of Continuing Education from 2013 to 2015 as part of his contribution to the profession. To better serve the Ottawa community, Antoun recently got registered as a member of the College of Chiropodists of Ontario.
As a registered podiatrist in Quebec and as a registered chiropodist in Ontario, Antoun is in the very unique position to offer his expertise into two distinct provincial jurisdictions allowing two different scopes of practices to better serve your needs. In Ontario, registered chiropodists can prescribe oral antibiotics while, in Quebec, registered podiatrists are licensed to perform ultrasonic exams and ultrasonic guided injections, bleomycin wart injections and bone procedures to correct digital misalignment or deformity such as bunions and hammer toes.
Most importantly, Antoun is constantly aiming at offering you such a memorable patient care experience that you just can't help but share with your family and friends.
Antoun Hajj, Doctor of Podiatric Medicine
Registered Chiropodist | Foot Specialist
Élie Bélanger holds a Doctoral Degree in Podiatric Medicine and is passionate about everything with foot health. During his externship at the New York College of Podiatric Medicine, he perfected his skills in podiatric surgery, podopediatry, radiology and orthopedic podiatry. He continually keeps abreast of new developments by attending training a recent example of which is a course on "targeted foot ultrasound".
In the last few years he has regularly helped people in need, dispensing his unpaid expertise to beneficiaries of the Accueil Bonneau in Montreal and, participating to an International Aid project in Morocco last year.
A former player of high level volley ball himself, he also has a keen interest in sports. He therefore applies his podiatric knowledge to different sports, offering a complete service to sports aficionados, whether competitive or recreational.
Élie Bélanger, Doctor of Podiatric Medicine
Registered Chiropodist | Foot Specialist
Rachel Ollerton graduated from the Chiropody program at the Michener Institute of Education at UHN, where she was awarded the Board of Governor's Gold Medal for Academic Excellence. She has always had a keen interest in healthcare. She holds her undergraduate degree in Kinesiology and has previous experience working in physiotherapy before she began her studies as a Chiropodist. During an internship at The Ottawa Hospital, she honed her skills in wound care and working with high-risk cases.
Rachel has a special interest in podiatric biomechanics, foot pain, and diabetic foot care. She is passionate about educating her patients and staying up-to-date with the most recent evidence-based practice.
When Rachel is out of the office, she can be found in the gym, mixing music, or hiking with her german shepherd dog, Baloo.
Rachel Ollerton, DCh
Registered Chiropodist | Foot Specialist
Nataliia Gileiko is originally from Ternopil, Ukraine where she attended Ternopil State Medical University in Ukraine and earned B. Sc. in Nursing. In addition, she studied at Ternopil State Medical Academy from 1996 to 2002. After graduation and 2 years of internship at Otolaryngology Department, she worked 8 years as a Doctor, ENT specialist in Ternopil Municipal Hospital.
Next, Nataliia with her family moved to Canada, where she graduated from the Mitchener Institute in Toronto with an advanced graduate diploma in Chiropody.
Her clinical experience includes West Mississauga Foot Clinic, Mitchener Chiropody Clinic, Compass Community Health and the Hamilton Foot Clinic. Being a former athlete, Nataliia has a particular interest in biomechanics. Through her clinical experience, Nataliia discovered her passion for getting patients back on their feet through individualized and holistic approach in patient-care. Also, after working with a large diabetic population, she wants to spread awareness of the effects of diabetes on the feet. Nataliia's goal is for patients to live full active lives with healthy feet.
Also, she has a wide variety of hobbies such as cooking, baking, travelling, hiking, and spending time with friends and family. If you have any podiatric concerns, Nataliia is excited and looking forward to meeting you!  Languages: English, Ukrainian, Russian and Polish
Nataliia Gikeiko, DCh
Registered Chiropodist | Foot Specialist
We Provide Relief From a Variety of Conditions
You may be in need of a laser pain therapy for a limiting foot condition as plantar fasciitis, Achilles tendonitis, joint pain, Capsulitis or Neuroma. Your condition may require custom-made orthotics, a gentle nail side excision technique compatible with a diabetic condition, innovative nail restoration and nail braces services, fungal nail or plantar wart laser therapy or any issues involving your feet, you need to turn to an experienced foot specialist who counsels you on the best options to treat, and the best ways to maintain and improve your foot health. Opt for a friendly doctor of podiatric medicine (or foot doctor in layman's terms) who listens to your needs, knows the field in-depth and can effectively assess your foot condition(s) using a highly sophisticated digital X-ray analysis before the best possible treatment plan and options can be designed and communicated to you before commencing any treatment modality. Our Ottawa Foot Clinic meets all these criteria. Plus, you benefit from a dedicated team of trained professionals who give you the individualized attention you deserve.